Aston Cantlow and District Local History Society
The Society was formed in 1994 and covers the area of the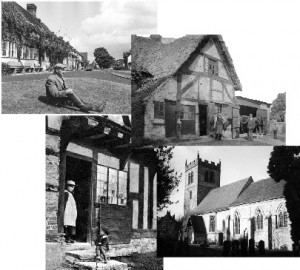 Parish of Aston Cantlow, including the villages of Aston Cantlow and Wilmcote, together with the hamlets of Little Alne, Newnham and Shelfield. The main object is the promotion of interest in community, local and general history, through talks, meetings, outings, and by participating in history based events. A further purpose is the undertaking of research projects, including audio and video interviews, photographic recording, the collection and compilation of archive material, and the publication of information.
The Society holds regular meetings on the second Monday of alternate months in the medieval Guild Room of Aston Cantlow Village Hall. Visits to historic properties and other places of interest are organised during the summer months.
An extensive archive of items of local historic interest has been built up which is housed in a special archive room in Aston Cantlow Village Hall. Material from the archive is exhibited at exhibitions in Aston Cantlow and in other local villages.
The Society celebrated its 20th Anniversary in June 2014 with an exhibition and Gala Dinner. During the evening Margaret Twigg gave an account of activities of the Society over the previous two decades. The highlight of the evening was a most entertaining talk given by Jill Fraser describing the background research required during the production of the TV programme Heart of the Country.
The Anniversary was futher marked by the presentation of an information board on the history of Aston Cantlow village hall. Margaret Twigg, organiser of the anniversary celebrations, and designer of the information board is shown presenting the board to Malcolm Gloster, Chairman of the Village Hall Committee.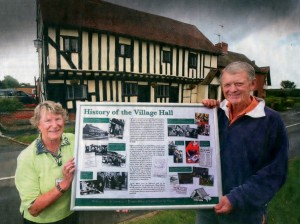 Find out more by clicking on the History Society sub menus or the links below: