The local service bus that comes through Aston Cantlow to Stratford upon Avon is number 229. It picks up on Bearley Road outside the Aston Cantlow Club in the morning and goes to Stratford via Wilmcote. In the afternoon  it picks up on the opposite side of the road (the Kings Head side) going in the other direction, and goes to Stratford via Bearley and Snitterfield. Not all buses follow the same route and so if you want one of the intermediate stops please refer to the full timetable via the link at the bottom of the summary.
Bus times
Note: items in bold just operate Saturdays & School Holidays
Aston Cantlow                08:05  10:10   12:02  14:02  16:27  17:44 18:44
Stratford Town Centre  08:35  10:25   12:25   14:25  16:50  18:07 19:07
Note – Times below are for pick up at Bridge Street – Most are outside Macdonalds except the 09:47 which picks up on the opposite side of the road outside BHS. All buses also pick up at Wood Street 2 minutes later than the Bridge Street times except for the 09:47 which is 2 minutes earlier than Bridge Street as it is going the other way.
Stratford Bridge St    09:47  11:45  13:45  16:10  17:20  18:20
Aston Cantlow            10:10  12:02  14:02 16:27   17:44 18:44
A full timetable for this service can be accessed with this link:BusTimesNo229June2015
This service will be operated by Diamond Buses
X20 Stratford to Birmingham and X50 Chipping Campden buses
Johnsons Coaches have taken the commercial decision to cut back the X20 Monday to Saturday Bus service to operate between Stratford and Shirley only. It currently operates to the centre of Birmingham. The Sunday service will be unchanged although the whole service from Birmingham via Stratford to Chipping Norton (for connections to Oxford on service S3) will be renumbered X50 to promote through travel. These changes are effective from Sunday 2nd September 2018.
Further information available from Johnsons Coaches on 01564 797000 or businfo@johnsonscoaches.co.uk.
The nearest bus stops for the X20 are Wootton Wawen and outside the Three Tuns in Henley-in-Arden
All  Johnsons bus timetables are available at this link here
UBUS
UBUS – Improved Service from 26 October 2020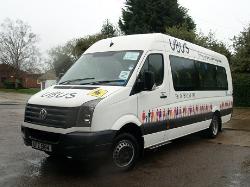 UBUS is a community transport service that operates on a dial-a-ride basis. From Monday 26 October 2020, the UBUS will offer a much improved service.
Who can use the service?
The service is for residents of Stratford-on-Avon district, who cannot access public transport because of mobility issues or live in an area with limited or no public transport.
Where will it operate?
Across all towns and parishes in Stratford-on-Avon District, travelling to Leamington Spa from some locations. There are five operating zones (see UBUS leaflet ) and passengers can travel to Stratford-upon-Avon or Leamington depending on their zone.
When will it operate?
Monday to Friday 9:30am until 7:00pm, except between 2:30pm and 4:30pm on school days.
How do I book?
Contact the booking centre on ubus@stratford-dc.gov.uk or call 01789 264491 between 8:30am and 6:00pm Monday to Friday to register and book your journey.
There is no registration fee and when you register we will send you further details of the service and your membership number.
You can book your journey up to a maximum of a week ahead and a minimum of a day before travel. The UBUS booking centre will confirm your journey details on the day of booking.
How much is it?
Fares on the service are £4 single and £6 return.
Warwickshire County Council Concessionary bus passes are now valid for travel on the service.
For further details, please see the latest UBUS leaflet .
Back & 4th
WRCC Back & 4th provides accessible community transport for residents of Stratford-on-Avon District and South Warwickshire.
The service offers affordable transport for community and voluntary groups and school transport services for Warwickshire County Council. The 15- and 16-seater minibuses are fully wheelchair accessible and can be hired by community and voluntary organisations. Volunteer drivers take groups on outings including shopping trips, lunches and cultural visits.
For further information, please call 01789 471595.
VASA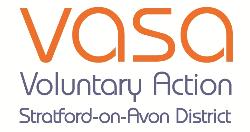 VASA's volunteer community transport offers journeys to both medical and social destinations for anyone with a genuine need for transport. The service is for residents of the district but can take people to medical appointments outside the district. VASA need at least three days' notice to arrange a journey.
There is a £2 administration fee and passengers pay 45p per mile. For more information or to book a journey, please call 01789 262889 between 09:30 and 13:00 Monday to Friday.