The nearest riding stables are not far away in Great Alne (3 miles). 

 Equine Learning CIC can offer:
Horse Riding Lessons, Hacking in the Countryside

Equine Facilitated Learning, Pony Club Centre

Teambuilding and Leadership Training, Pony Days
Fun Dog Agility, Own a pony…..and much more!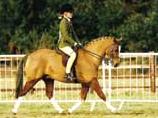 If you have your own horse and want some help in learning how to show your horse and take part in events you can get professional assistance from Becky at Shown From Home
Becky has been showing horses and ponies since 1980 with great ssuccess, and producing horses since 1990, so you can't go to a better local expert.