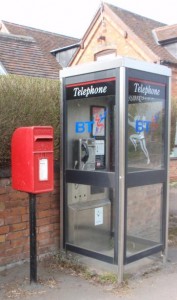 The village has a BT public telephone box, next to the post box in the centre of the village on Bearley Road.
Mobile phone signals are not great here, but if you are on Vodafone you have a better chance of getting a reasonable signal than most of the other networks. Don't expect any 3G signals, so internet access on your smart phone or iPad is going to be slow.
If you have a broadband connection at home in the village you can are unlikely to get much more than 2Mbits per second download speed because of the distance from the exchange at Great Alne, so it is not worth paying for any faster service. Fast fibreoptic broadband is planned for Stratford upon Avon in September 2011 but when it will reach Aston Cantlow is not known yet.
Television reception is OK on Freeview, and excellent on Freesat and Sky, but not great for DAB radio in parts of the village.
The local radio stations for Aston Cantlow are as follows:-
The principle local newspaper for Aston Cantlow is the Stratford Herald published weekly every Thursday. A cut-down version known as Midweek is distributed free in the village on Tuesdays.